"The development of the society, the

State and the nation is directly

Proportional to the development

Of the human".
Our Govt. always runs or works with that thought. So they changed Our National Education Policy. It is the first Education Policy of the 21st century and its main aim is to address the many growing Developmental essentials of this country.
Introduction to NEW EDUCATION POLICY (NEP) 2020:
The main purpose of this new education policy is for India to have an education system that ensures impartial access to the highest-quality education for all learners regardless of social and economic background.
It is basically based on the principle that:
"Creative thinking

Inspires Idea

While idea

Inspires Change"
The Modi Govt. Announced the New Education Policy 2020 which brings about several changes in education in India.
Our New Education mainly focuses on mother tongue till class 5.
Activity-based learning below class 2.
Introduction of subjects between classes 3 to 5.
Coding and internships in class 6.
Multi-disciplinary, flexible choice of subjects in classes 9 to 12.
These Points will be described briefly below in the article.
New Education minister: After NEW EDUCATION POLICY 2020
The current Education minister is Ramesh Pokhriyal 'Nishank', a member of the councils of the ministers.
He has B.Com (Hons) from the University of Pune.
Profession- Spokesperson, Politician, and Secretary.
Changes In MHRD: NEW EDUCATION POLICY 2020
India has had a ministry of education since independence. But in 1985 Rajeev Gandhi Govt. decided to change its name to the Ministry of Human Resources Development (MHRD) and with the public announcement of the newly drafted "National Education Policy 2020" and Ministry of Human Resources Development was renamed to Ministry of Education. The Main Headquarters of the Ministry of Education is at Shastri Bhawan, Dr.Rajendra Prasad Road, New Delhi.
Brief History of New Education Policy 2020 (NEP)
Education policy in India has been changed from time to time. The first education policy in India was started by former Prime Minister Indira Gandhi in 1968. After this, the next policy was made by Rajiv Gandhi's government in 1986, the second education policy in which the Narasimha Rao government made some changes in 1992.
Thus, at present, 34 years old education policy was going on in India which was becoming ineffective with the changing scenario.
This is the reason that in the year 2019, the Ministry of Human Resource Development prepared a draft of the new education policy and sought advice from the public.
India's new education policy 2020 has been approved by the Cabinet chaired by Prime Minister Narendra Modi on 29 August. This new education policy was drafted by former ISRO chief K.K. A committee of experts headed by Kasturirangan has prepared.
The Cabinet approved the new Education Policy 2020 in India on 29 July 2020. Now education up to class V will be done in the mother tongue. In this policy, 6% of GDP will be spent on education. The first education policy in the country was started by Indira Gandhi in 1968.
Let us know the important points of the new education policy 2020 of the country in this article.;
• No clear boundaries between the streams: Until now, the students had to choose some subjects compulsory with another. For example, if a student opts for Science as a stream, he has to take Physics and Chemistry with either Biology (PCB) or Mathematics (PCM) or both (PCMB). According to the new policy, students can opt for any subjects they like even if it is not included in their stream.
Suggested Read: Tips to 1st write blog
• Incorporating practical knowledge from a young age: The new syllabus would primarily focus on practical knowledge rather than bookish knowledge. Experiments, field visits, etc. are to be incorporated in the syllabus on a larger scale. High-level Computer learning like coding which is now taught in colleges and universities will be taught from 6th grade.
• 5+3+3+4 pattern: Important exams would be conducted after 3rd, 5th, 8th, and 12th just like we have 10th and 12th boards now.
• 4 yrs of degree instead of 3: This is about the new pattern for higher studies. The degree colleges will have 4 years instead of 3 and will have advantages for all the students. You can receive the degree if you pursued it only for a job by dropping the last year. The fourth-year would be for a deeper understanding of the subject.
Problems: NEW EDUCATION POLICY 2020
Due to no clear boundaries and no compulsory subjects, the use of other subjects in a subject such as the use of math in physics cannot be proven useful. To understand physics, you need some advanced math which would ultimately be like either taking the subject unwillingly (no other option) or explaining just the part which is needed (less effective).
This education policy undoubtedly would cause chaos due to the complete change of the system. The students in the initial years would suffer heavily in terms of results and mental health. 
The biggest drawback can be cured: In 2019, the first proposal for such a policy was introduced. This year they made changes in it and one of which was the removal of sex education as an independent and compulsory subject. This edit is not acceptable for the real progression of our country by empowering via education. No education is completed without sex education inclusion.
Inclusion of members of LGBQIA+ in gender studies and sex education: There is mention of including transgender people in gender studies but there is no mention of lesbians, gays, bisexuals, or any other gender identities or sexualities which are as much part of the society as they are part of the community. They too deserve to be taught to children about. Although including transgender people was a big step, it doesn't give the excuse to not include others.
These changes in higher education NEW EDUCATION POLICY 2020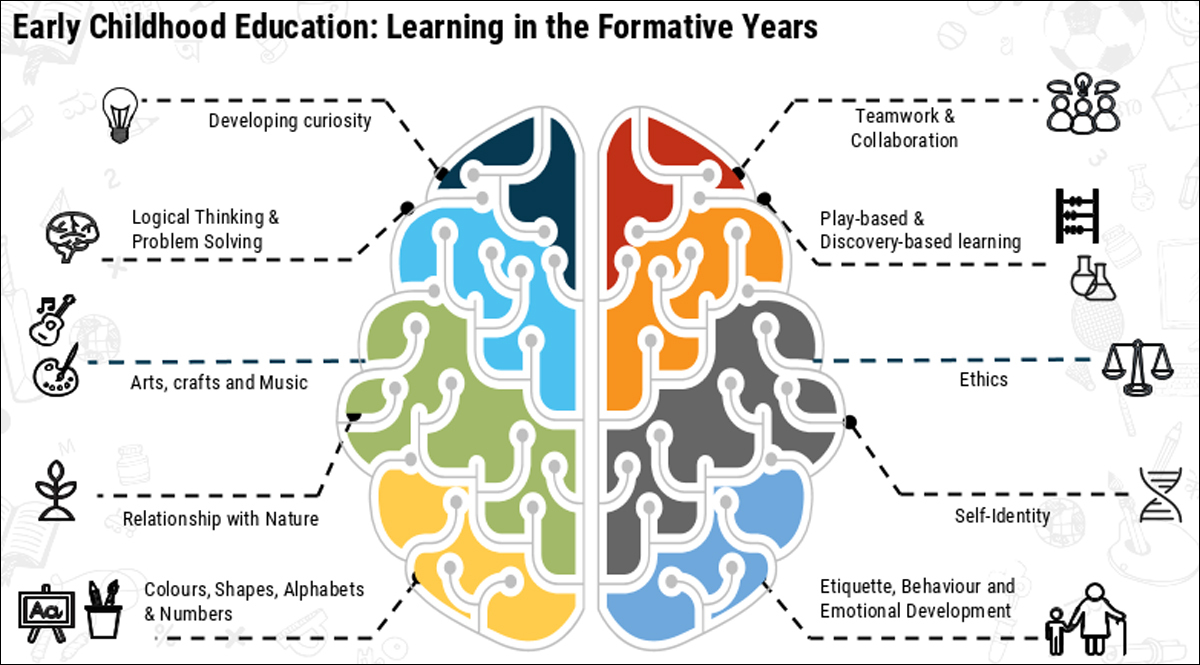 (New education policy 2020: High Education Changes) :
Multiple entries and exit options in higher education.
Five years course exemption in MPhil
Autonomy based on the accreditation of colleges
National Mission for Mentoring
One regulator for higher education
Legal and medical education not included Government and private education standards will be of the same National Research Foundation (NRF)
Technology changes in establishment education for education of disabled people
E-courses started in 8 regional languages
Suggested read : Class 9 CBSE syllabus change 2020
Early Childhood Care and Education for 3 to 6-year-olds: NEW EDUCATION POLICY 2020
National Mission on Foundation Literacy and Numeracy Launched by NCERT
On the basis of 5 to 3 4, studying from 9th to 12th
New skills for children: start the coding course
Extracurricular activities-involved in the main curriculum
Emphasis on vocational: studies will start from class 6
New National Curriculum Framework ready: Board exam in two parts
Life Skills included in the report card ensure education for every child by the year 2030
Author: Vedhas Atre and Rajan Sharma